Unique show alert! What is sport philanthropy? Listen & learn from good Samaritan, Joanna Pasternack, who connects athletes' passion to philanthropy.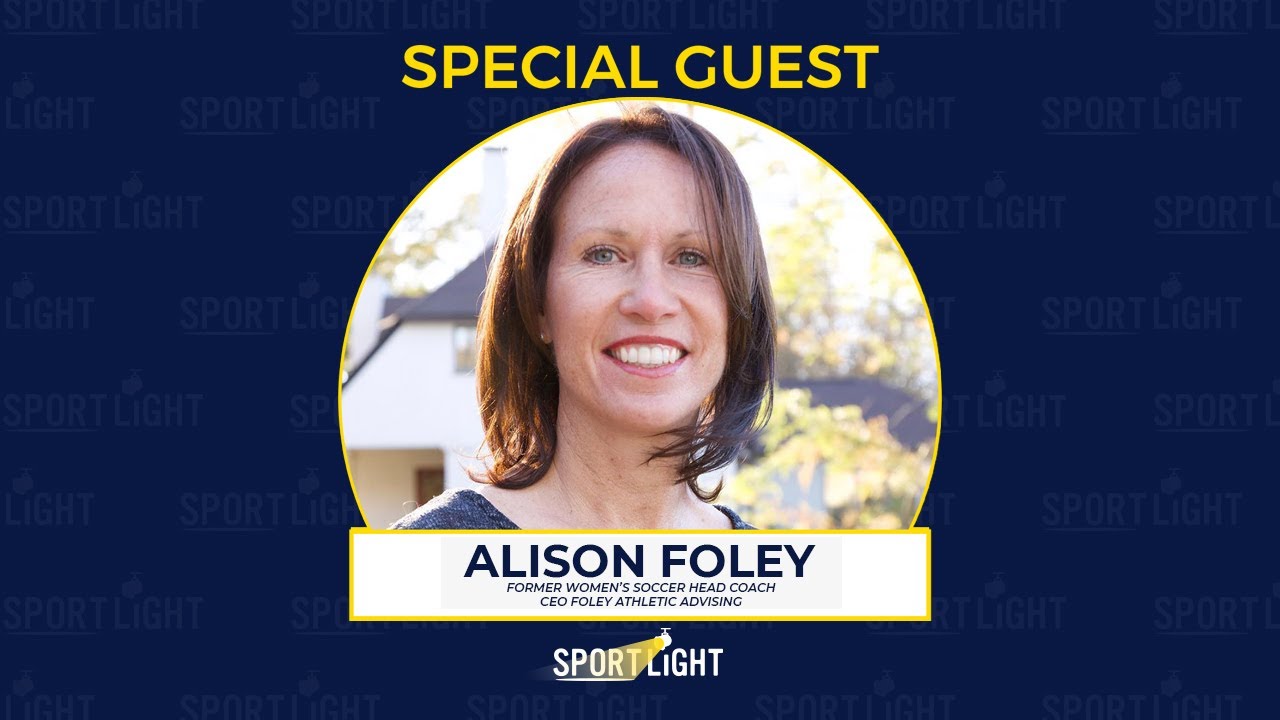 In this week's episode of SPORTLiGHT's Sport Report, Meg and Dr. G interview Alison Foley, former head women's soccer coach at Boston College, and the winningest coach in the history of the program, with fifteen NCAA tournament appearances. Coach Foley reveals some of the secrets to her successful career and how she helped set a new bar for coaching women in college sports. Meg and Dr. G discuss Coach Foley's books and the writing process, and what practical experience and knowledge she used in their development. Not only is Coach Foley adept at coaching and writing, but she is also the CEO of Foley Athletic Advising and an Adjunct Lecturer in the Fitness Department at Regis College. Alison has a background in sport psychology and a Master's degree in Kinesiology. Coach Foley offers insight into family life balance in sports, coaching women's teams, leadership, and team-building strategies, and keeping kids in sports. Meg and Dr. G also ask for Coach Foley's opinion on the Varsity Blues scandal. Tune in for more behind-the-scenes tips from Coach Foley and the SPORTLiGHT team.
Thanks for watching! If you enjoyed this video or considered it thought provoking, hit the LIKE and SUBSCRIBE buttons.
Subscribe to SPORTLiGHT's Sport Report podcast on:
Spotify: https://open.spotify.com/show/04IXePiNMOa3vcRIJkAuDL?si=D9TSHlNVSwa4ReYC13QUpg&nd=1
Apple Podcast: https://podcasts.apple.com/us/podcast/sportlight-sport-report/id1549797269
For more exclusive content, visit our Patreon community page: www.patreon.com/SPORTLiGHT
We welcome your review and feedback. Leave us a review wherever you access our show and let us know what topics you would like to hear discussed on the Sport Report!
Find all the ways to Engage & Follow SPORTLiGHT here: https://linktr.ee/SPORTLiGHT
LINKS, RESOURCES, & RESEARCH
Alison Foley's company, Foley Athletic Advising, lists additional information about her on their website. https://www.foleyathleticadvising.com/
This link leads to Coach Foley's bio and stats from her time as the head women's soccer coach at Boston College. https://bceagles.com/sports/womens-soccer/roster/coaches/alison-foley/368#:~:text=Alison%20Foley%20enters%20her%2021st,38%20record%20at%20The%20Heights.&text=Has%20led%20BC%20to%2014%20NCAA%20berths%2C%20including%2011%20consecutive.
Access Coach Foley's books:
How to Coach Girls https://amzn.to/3qw71cc
The Elusive Full Ride Scholarship https://amzn.to/3evaqWu
Cheers to our friends at the University of Minnesota who lead The Tucker Center for Research on Girls & Women in Sport: https://www.cehd.umn.edu/tuckercenter/default.html
Premiere journal covering topics related to this show is the Women in Sport and Physical Activity Journal: https://journals.humankinetics.com/view/journals/wspaj/wspaj-overview.xml
Premiere organization supporting the development of women coaches is We Coach: https://wecoachsports.org/
Takey a journey back in time to learn about how tennis great and advocate Billy Jean King helped to found the Women's Sports Foundation: https://www.womenssportsfoundation.org/
TIPS & TOPICS COVERED IN THIS SHOW
● Coaching as a woman in sports
● Managing coaching and family life balance
● Parenting, coaching, and approachability
● The importance of family support
● Groupwork and teambuilding
● The importance of being kind
● Environmental factors in athletic abilities
● Differences between coaching boys and girls
● Language and choosing words wisely
● Keeping kids involved in sports
● Bonding outside of practice
● Full-ride scholarships
QUOTES & TOPIC INDEX
[05:37] Even back then there weren't a lot of female coaches. –Dr. G
[6:00] The longevity of women in sports is short, you know, with raising a family. It's an average of seven years in the profession compared to seventeen years for guys. –Coach Foley
[10:40] It's okay to travel with your kids as long as they have a caretaker ... you just have to ask those questions to your athletic director. The majority of people do want to support you. –Coach Foley
[13:13] The majority of my female friends were very well-supported. –Coach Foley
[14:10] [Your team] sees you with your child and there's a new level of approachability. –Coach Foley
[15:10] Leadership is often seen as masculine ... but now that's all changed with new gender roles. –Dr. G
[16:40] [After being a mother], you realize you're dealing with somebody's child at practice. –Coach Foley
[25:20] We love working with small groups of our players, that's when they get better and that's when you can connect. –Coach Foley
[26:00] Be kind ... Everyone on this team is equal. –Coach Foley
[34:15] In terms of environment, I think we're all products of what we were brought up in. –Coach Foley
[34:25] Coaches have a tendency to recruit those with the values they found in themselves as players. –Coach Foley
[36:00] I was hoping I could give young women ... [a good] experience that they could have for the rest of their lives. –Coach Foley
[39:00] Coaching girls ... they like to be complimented occasionally, and they're going to work harder for you. –Coach Foley
[39:54] Not to say this is the end-all-be-all or that all girls work this way, so we were careful with our writing [in the book]. –Coach Foley
[40:20] You can use careful language to modify you stance towards things ... It's something we overlook a lot. –Dr G
[41:15] If you're careful about your language, they feel better, they'll want to be around you and participate in things better –Dr. G
[41:20] If you choose your words well, what a difference that will make. –Meg
[42:55] Communication was one of the things that changed for me over time ... I hope I did a better job of it with my experience. –Coach Foley
[44:15] As you get more experienced, you learn more about other people and you learn how to communicate with different types of players –Meg
[45:15] I just think the most critical influences at [middle school] age are coaches and teachers ... besides parents. If you can create environments that they look forward to coming to in middle school, they're going to cancel out distractions. If they find something they're proud of and want to represent ... sports are a wonderful way to represent this. –Coach Foley
[46:10] Just really making [players] proud of what they're doing ... I think you have a lot of influence as a coach to create that environment of connectedness. –Coach Foley
[48:20] Social cohesion ... When you're forming a team, you do things outside the field that are non-task related ... for the sense of belonging. –Dr. G
[52:30] Parents will go to great lengths to get their kids recruited. –Coach Foley
[53:20] Be involved in sports but don't gamble everything you have on thinking your kid is going to get a scholarship ... You can invest your time and energy in some other things and have a more balanced child as well –Dr. G
Sign Up to Our Newsletter!
Be sure to stay up to date on all things SPORTLiGHT