Meg and Dr. G chat with Mr. Karlton Creech, the University of Denver's Vice Chancellor of Athletics, Recreation, and Ritchie Center Operations.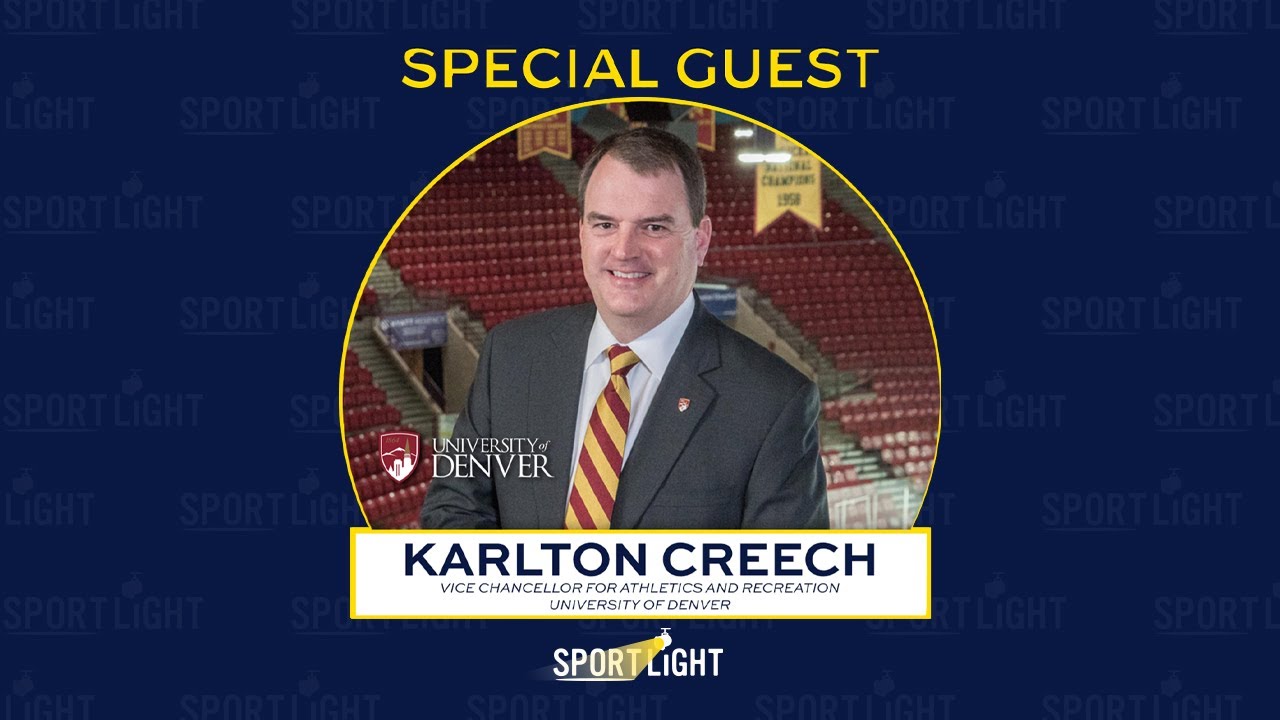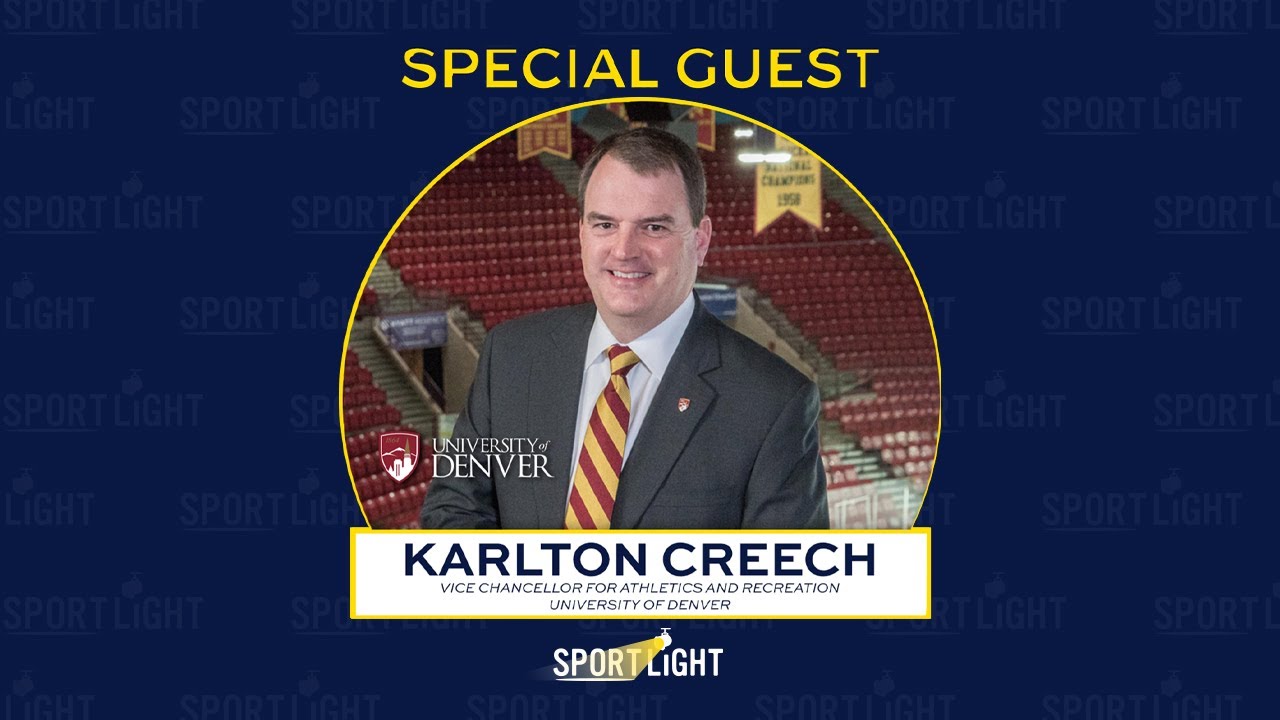 PART 1
In this SPORTLiGHT show, Meg and Dr. G chat with Mr. Karlton Creech, the University of Denver's Vice Chancellor of Athletics, Recreation, and Ritchie Center Operations. Karlton shares his career development and work in sports administration that led him to his position today. He provides a ton of insight on intercollegiate philanthropy and fundraising and an overview of what he has accomplished in his career, from ticket sales to organizational planning. Dr. G, Meg, and Karlton discuss essential sport topics such as team culture and personal leadership, as well as leading and coaching online during COVID19. Tune in to learn more about personal branding and entering the athletics industry from an industry insider.
TIPS & TOPICS
● Personal branding and leadership
● Team culture
● Positive leadership
● Steps Karlton took to get to his current position at DU
● How to climb the ladder to get into the sports administration industry
● Athletic grants/donations
● COVID online training
LINKS & RESOURCES
This study examined the effects the COVID19 pandemic had on football around the world. It details the initial cancellation of several games or entire leagues, with players being forced into quarantine, which was followed by limited-size, contact-restricted training groups. These groups could eventually return to normal play, but players had to make the choice between their own physical wellness and athletic performance. Other COVID19 coaching related topics include: changes to fitness training, physical preparation, and recovery, as well as the eventual return to normalcy of competitive football post-pandemic.
Mohr, M., Nassis, G. P., Brito, J., Randers, M. B., Castagna, C., & Parnell, D. (2020). Return to elite football after the COVID-19 lockdown. Managing Sport and Leisure. https://www.tandfonline.com/doi/full/10.1080/23750472.2020.1768635
The authors detail current evidence-based coaching methods coaches are implementing across the globe. Recommended practices for coaches to increase during COVID19 include: ensuring teammates stay connected, keeping players and families motivated, utilizing creativity and new methods, and enhanced communication.
Glen, J., Gordon, J., & Lavallee, D. (2020,). Investigating coaching behaviors during the COVID-19 Pandemic: A case study within a case study. Case Studies in Sport and Exercise Psychology, 4(1), 125-133. https://journals.humankinetics.com/view/journals/cssep/4/1/article-p125.xml
As discussed in the episode, here is some additional information about personal branding. These researchers interviewed a sample of professional golfers to examine personal branding as applicable to athletes. The researchers determined that while athletes reported success, differentiation, and positive relationship with sponsors, they also faced marketing challenges such as lack of knowledge, time, and support, as well as differences in career stages. Overall, this article provides a helpful overview of the strengths and challenges of personal branding in athletics.
Hodge, C., & Walker, M. (2016). Personal branding: A perspective from the professional athlete-level-of-analysis. International Journal of Sport Management and Marketing, 16(2), 112-131. https://www.inderscienceonline.com/doi/abs/10.1504/IJSMM.2015.074920
QUOTES
[01:02] I wasn't an athlete; I wasn't a coach. I was a kid who grew up in a college town that loved college sports. – Karlton Creech
[03:47] You've got to be dedicated to the lifestyle more than anything. This is not a 9-5 Monday through Friday what we do. – Karlton
[05:39] I'm proof that anyone can do it! – Karlton
[09:10] What it all boils down to I've found is—be respectful of other people and try to build some relationships along the way. – Karlton
[16:17] You need to protect your brand, and I find that an interesting and kind of revealing way to be talking about today's society, you know that has, a sort of capitalistic economy to it. It's not just living a good life, becoming educated, or learning how to lead, but it's how to protect your brand. And then exploit that for economic gain. – Dr. G
[17:00] Your brand is the person you are. – Karlton
[17:38] Your brand as an athlete is like my style, my thing, my it. – Meg
[19:00] Team culture is another buzzword that's getting used a lot right now…But culture for me is what are our consistent actions over time? Culture takes a long time to build, there is no finish line. It's a work in progress every day. – Karlton
[24:27] Be willing to work hard … and you'll get opportunities. – Karlton
STAY CONNECTED
Follow and engage with SPORTLiGHT:
SPORTLiGHT YouTube
https://www.youtube.com/channel/UCdptLBWpWbiLSh3o8mljj6A/featured
SPORTLiGHT SoundCloud
https://soundcloud.com/sportlight
SPORTLiGHT iTunes
https://podcasts.apple.com/us/podcast/sportlight-sport-report/id1549797269
SPORTLiGHT Spotify
https://open.spotify.com/show/04IXePiNMOa3vcRIJkAuDL?si=znIsDn0kT2aJifQX1DOLpg
SPORTLiGHTmedia Instagram
https://www.instagram.com/sportlightmedia/
SPORTLiGHT.com Twitter
https://twitter.com/Sportlightcom
SPORTLiGHTMedia Facebook
https://www.facebook.com/SportLightMedia
SPORTLiGHT website
https://www.sportlight.com/
SPORTLiGHT LinkedIn
https://www.linkedin.com/company/sportlightmedia/
SPORTLiGHT Linktree
https://linktr.ee/SPORTLiGHT
PART 2
In Part 2 with Mr. Karlton Creech, Dr. G and Meg continue their interview with the University of Denver's Vice Chancellor of Athletics, Recreation, and Ritchie Center Operations. Karlton provides insights on positive leadership and how it relates to discipline and accountability in the athletic community. Dr. G, Meg, and Karlton also discuss culture and leadership, the decision making process between coaches and athletes, and expectations and standards teams have for their athletes. These topics are also discussed through a COVID-19 lens, and how expectations and consequences have changed since the beginning of the pandemic. Karlton also explains changes to meetings within the athletic department, using Zoom rather than face-to-face during COVID, and how it resulted in positive and negative impacts for himself and the coaches. Tune in for more information about what positive leadership in coaching really means, and how COVID has impacted intercollegiate athletics administration.
TIPS & TOPICS
● Positive leadership
● Culture and leadership
● Expectations and standards for athletes
● Discipline and accountability
● Caring as an exercise in power and control
● Coach education
● Decision making processes between athletes and coaches
● Consequences for athletes not following expectations during COVID
● Daily changes to communication among coaches during COVID
● Karlton, Meg, and Dr. G's favorite personal coach stories
LINKS & RESOURCES
Denison, J., & Avner, Z. (2011). Positive coaching: Ethical practices for athlete development. Quest, 63, 209-227.
Sport coaches routinely talk shop, engaging in problem identification and problem solving. But what if we're misidentifying problems? Maybe we're making a mountain out of a molehill. What if the very knowledge we've learned, our so-called expertise, is causing the problems we're trying to solve? Dr. G uses this article in the University of Denver's Masters of Arts in Sport Coaching curriculum, but as he reminds you that this article, and others like it, help our student-coaches learn to think differently—to challenge their thought processes and provide more tools for practice. Isn't that one of the purposes of education?
In another insightful and fascinating argument, Denison and co-authors argue the coach's need to be aware of power and discipline in order to make substantial changes to their coaching. For more on this, checkout the following article and consider it in light of "positive coaching."
Denison, J., Mills, J. P., & Konoval, T. (2015). Sports' disciplinary legacy and the challenge of 'coaching differently'. Sport, Education and Society, 22, 1-12.
Author Jon Gordon's books on positive leadership are quite popular. They're not academic books strongly supported by theory, research, and peer reviews, but there are practical pearls of wisdom nonetheless.
In the first of its kind book in sport coaching, Care in Sport Coaching, Professors Cronin and Armour review leading research on care and its impact in coaching. Through an engaging storytelling method, called pedagogical cases, they provide coaches and sport stakeholders with an insightful analysis of care in sport coaching.
https://www.taylorfrancis.com/books/care-sport-coaching-colum-cronin-kathleen-armour/e/10.4324/9781351109314?refId=daad5378-6684-4d56-8701-31fdaae60a7c
QUOTES
[01:12] All of my questions [when hiring new coaches] were about culture: "What's your leadership style?", "How do you treat your student athletes?", "How do you talk to them?", "What's your toughness quotient versus your love quotient?", "How are you going to lead a group of young people?" – Karlton Creech
[02:35] I don't want to lead by fear, by intimidation, or feel like I have to make every decision … I feel like that is a very inefficient way to lead. My style is more about empowerment. – Karlton
[07:55] What I've found to be lacking across all levels of sports…is internal human resource or coach education. – Dr. G
[09:08] I think it's the right thing to do. The right way to treat people, the right way to act. I also believe in it as a very clear business decision. If we want to win and have success, and we want to promote the brand of the University of Denver in a way that we're all going to be proud of, it's a business decision to do that in a positive way. It only takes one episode of some bad actor activity to ruin that for everybody. – Karlton
[11:00] All athletes are craving to know that you care about them. If they know that you care about them, they will accept accountability and discipline, and all those things you have to have to win. Positive leadership does not replace discipline and accountability, it enhances it. – Karlton
[12:55] One important part of a culture is strong expectations. Positive leadership and culture does not mean we ignore expectations. – Karlton
[15:15] Mistakes are going to happen, we're human. But it can't be consistent. It can't be the same mistakes over and over again, and you have to take corrective action when you need to. – Karlton
[17:32] Where does your own sense of humility and compassion come from? We don't always associate that with leadership and the head [Athletic Director]. – Dr. G
STAY CONNECTED
Follow and engage with SPORTLiGHT:
https://linktr.ee/SPORTLiGHT
Or Support Us On Patreon
https://www.patreon.com/SPORTLiGHT
Sign Up to Our Newsletter!
Be sure to stay up to date on all things SPORTLiGHT