Unique show alert! What is sport philanthropy? Listen & learn from good Samaritan, Joanna Pasternack, who connects athletes' passion to philanthropy.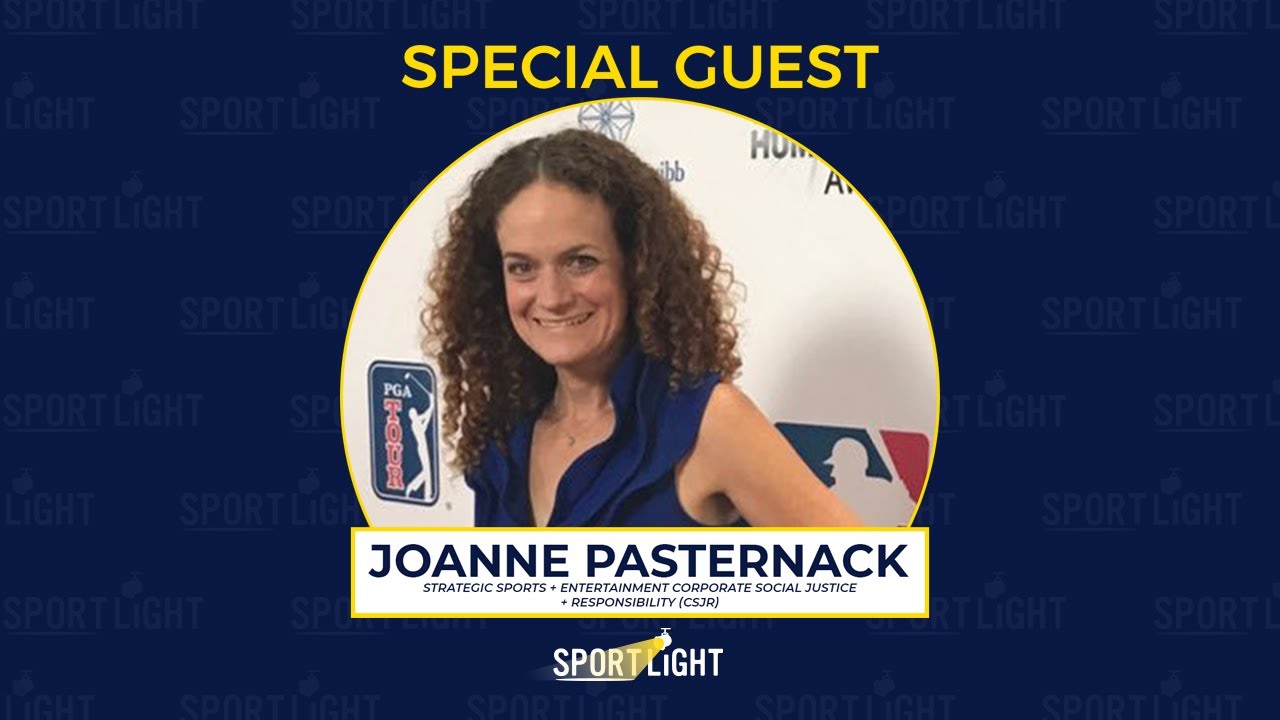 In this episode of SPORTLiGHT's Sport Report, Meg and Dr. G interview Joanne Pasternack, an accomplished entrepreneur and philanthropist, who guides athletes to use their talents and treasure to connect with social causes they're passionate about. Pasternack, President and Chief Impact Officer of consulting firm Oliver Rose, helps athletes find their voices and identify and amplify their identities regarding social causes. Joanne's background in competitive figure skating taught her the power of what sports could do, and her law degree and work with the Special Olympics in Washington DC fueled her passion for philanthropy and charitable efforts. Joanne has helped athletes from teams such as the 49ers and Golden State Warriors to harness their energy and passion to invest in themselves and the public good. She has also taught a university course on Philanthropic Efforts in Sport. Meg and Dr. G ask Joanne about her philosophies surrounding athletics and social causes, and they discuss topics such as humanism, dignity, and speaking up in sports. Tune in to this episode of SPORTLiGHT for more about Joanne's life and career with insight from Meg and Dr. G.
Subscribe to SPORTLiGHT's Sport Report podcast on:
Spotify
https://open.spotify.com/show/04IXePiNMOa3vcRIJkAuDL?si=D9TSHlNVSwa4ReYC13QUpg
Apple Podcast
https://podcasts.apple.com/us/podcast/sportlight-sport-report/id1549797269
We welcome your review and feedback. Leave us a review wherever you access our show and let us know what topics you would like to hear discussed on the Sport Report!
TIPS & TOPICS
● Dignity across humanity
● Social causes
● Philanthropy in sports
● The human experience
● Human connection
● Finding your passion
● Speaking with an authentic voice
● Speaking up for ourselves
● Fighting social norms in sports
● Alleviating pain (physical and social)
● Humanism
● Building a business framework through social relationships
LINKS & RESOURCES
Here is Joanne's professional bio with more details about her accomplishments and work.
https://www.seventysixcapital.com/joanne-pasternack
Below is the link for Kindergarten Kickoff, the literacy program Joanne mentioned created by Joe Staley, which allows kids to get books, write their own books, think about respect, and build literacy and social skills. Many schools create their own version of the program.
https://www.familyeducation.com/school/kindergarten-readiness/kindergarten-kickoff
Ubuntu Football Academy is the South African non-profit Joanne mentions which works to support young men through athletics, education, mentorship and training, and a home via academy residence. Click below for more information.
https://www.ubuntufootball.com/
Joanne mentions her experience working with Katie, Sesame Street, and Special Olympics. The Special Olympics works to change the lives of people with intellectual disabilities through sport and inclusion.
https://www.specialolympics.org/
Below is the website for Athletes' Voices, the program Joanne is working on in collaboration with Harvard. The program works to connect athletes with social causes they care about to use their voice and impact for good.
https://www.athletesvoices.org/
Joanne's company, Oliver Rose, works to connect organizations with philanthropic and/or charitable causes. She has worked with several athletic, educational, and non-profit organizations in the past and has helped them find worthy causes and develop strategies for achieving their goals.
https://www.oliverrosellc.com/
RELATED RESEARCH
Sport philanthropy is not a well studied area of research. In this study, the researchers explored the type of work Joanne does--why and how do professional athletes engage in philanthropy.
Babiak, K., Mills, B., Tainsky, S., & Juravich, M. (2012). An investigation into professional athlete philanthropy: Why charity is part of the game, Journal of Sport Management, 26(2), 159-176. https://journals.humankinetics.com/view/journals/jsm/26/2/article-p159.xml
Some researchers will look at philanthropy using a framework called corporate social responsibility (CSR). The research and literature on CSR is robust in sport and business.
Being a philanthropic athlete not only helps the public good, it helps athletes increase their personal brand. In other words, helping others helps yourself too. Here's an interesting study that showed just this, and how philanthropy increased "fandom" (i.e., their popularity and image).
Kunkel, T., Doyle, J., & Na, S. (2020). Becoming more than an athlete: developing an athlete's personal brand using strategic philanthropy. European Sport Management Quarterly, 1-21.
https://www.tandfonline.com/doi/full/10.1080/16184742.2020.1791208?src=recsys
STAY CONNECTED - FOLLOW & ENGAGE WITH SPORTLiGHT
SPORTLiGHT Linktree
https://linktr.ee/SPORTLiGHT
QUOTES & TOPIC INDEX
[8:45] You don't want to just be a number on a piece of paper. –Joanne Pasternack
[9:15] That's why we launched Athletes' Voices this year, we saw there were more and more athletes stepping up, teams stepping up… look at the WNBA, Women's Soccer, and the impact they had …. The ability to provide them with a place to provide that voice and take it to action was the next natural step. –Joanne Pasternack
[9:43] You can put a slogan out there, but if you don't tell people what to do with it, how will they know where to go with it? –Joanne Pasternack
[14:40] It's just like any other interview. What is it that you love? What is it that you're good at? What do you feel connected to? –Joanne Pasternack
[14:52] I'm a big fan of the Japanese philosophy of Ikigai, a Venn Diagram which at the center has "the thing that gets you out of bed in the morning" … I know that when you can connect to someone with a sense of purpose around a cause, you have an opportunity to get them engaged. –Joanne Pasternack
[18:30] If there's an opportunity … Just say yes. Even if you're not sure or feel like you might be under-prepared, having that mindset embedded in my head from such a young age allowed me to take chances. –Joanne Pasternack
[22:10] If you're really looking for something and can't find it at your job, I really recommend people take on external leadership positions at non-profits and with community-based organizations.–Joanne Pasternack
[24:55] What's the harm in trying? Just go do it. That's a great mindset to remember. –Joanne Pasternack
[25:05] In our heads we build up this sense of failure like that's something that will push us backwards, but really failure is just keeping you in place for the most part. And then you have a chance to try it again. –Joanne Pasternack
[25:21] Failure provides an opportunity … I think saying yes is a skill. –Meg
[32:20] Sedaka is the act of being charitable. Tikkun Olam is the idea of making the world a better place. That's the philosophy I've really embraced from an early age. –Joanne Pasternack
[33:20] If you have to tell everybody what you've done, then it probably doesn't have as much meaning. –Joanne Pasternack
[37:07] Community is "let's do this together" vs. "let's do this for somebody". –Joanne Pasternack
[45:50] You have the genetic material of your ancestors inside of you … What are you going to do with it? How are you going to honor them? That's something that resonates with a lot of the athletes I work with. –Joanne Pasternack
[49:11] I want people to speak with their authentic voices … Just because some of us have been blessed with access to education does not mean that we are more innately intelligent. –Joanne Pasternack
[50:00] We want you to speak in your natural voice around causes that are important to you. –Joanne Pasternack
[51:06] Sport can be so spectacularized that it's sometimes hard to see past that, and to really have these people embrace who they are and what they care about. –Meg
[53:41] We're trying to destigmatize raising your hand to ask for help, otherwise you have to stay behind that facade … None of us are authentic when we're trying to be something we're not. –Joanne Pasternack
[54:36] I love sport as a connector. –Joanne Pasternack
[59:44] If you try to coach everyone the same way you'll be a failure. If you [don't] think about what [athletes] need and what inspires them … That's not the right coach. –Joanne Pasternack
[1:00:45] The best coaches figure out who you are and what lifts you up. –Joanne Pasternack
[1:01:51] Even if you're in a dream job, it may not be your dream job, and that's okay. –Joanne Pasternack
Sign Up to Our Newsletter!
Be sure to stay up to date on all things SPORTLiGHT